This post brought to you by Boudreaux's Butt Paste. All opinions are 100% mine.
I have had eczema all of my life. I have gone to many different doctors and tried creams~lotions and even steroid shots. My rash would clear up for a few days and then it would be back! And~it itched so bad that it hurt! Then I received a sample of  Boudreaux's Butt Paste. I have seen this advertised but have never used it.
Butt Paste has been featured on~
- Oprah Show
- Tonight Show
- Today Show
- People Magazine
- ESPN
- While You Were Out TLC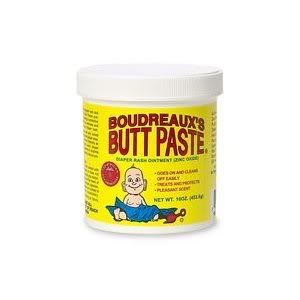 Boudreaux's Butt Paste® was specifically formulated by a pharmacist with direction from a respected pediatrician to provide effective diaper rash care.
Even though it says it is for diaper rashes I looked at the ingredients~
Boric Acid, Castor Oil, Mineral Oil, Paraffin, Peruvian Balsam, Petrolatum
And Peruvian Balsam is used for varied skin diseases or disorders such as eczema!
I applied the Butt Paste to my rash and it was so easy to apply and the scent was very pleasant. It felt better as soon as I put it on and the itch has went away!
I can't wait to go to the doctor next week to tell him all about Boudreaux's Butt Paste and show him that my rash looks so much better!! Butt Paste comes in Convenient sizes too~1oz, 2oz, 3oz and 4oz tubes, 16oz jar. So you can have it with you all the time!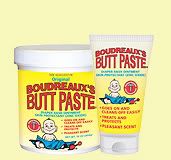 I am a believer in Boudreaux's Butt Paste and now you can try it too! Just go to their site to request a free sample here.