No Ordinary Burger Contest and Giveaway 8/16
Johnsonville is cooking something great up at our house. This time it is Johnsonville Brat and Italian Sausage Patties! Yes~it's true you can now get the taste of Brats and Italian's in a patty.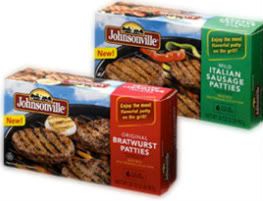 Now thru Sept 6th Johnsonville is "No Ordinary Burger Contest!"Build your best burger using Johnsonville Brat or Italian Sausage Patties, and you could win a year's worth of groceries from WalMart in the "No Ordinary Burger Contest!"
They want you to submit your unique recipe using their new sausage patties. There are two grand prize winners!
It's easy to enter~just log on to the contest page and submit your recipe and vote for your favorite pork burger. Two grand prize winners will be awarded one year's worth of groceries and their winning recipes featured on Johnsonville Brat and Italian Sausage Patty boxes. You can see the contest rules here
We purchased the Italian Sausage Patties and made them on the grill to which we added some great fixings to make~
6 Italian Sausage Patties
12 Slices of Italian Bread
We made the Johnsville Italian Sausages on the grill. As they were cooking I heated up the Spaghetti Sauce.We then put the sausage on the italian bread and topped with mozzarella,onions and green peppers.
Serve with extra sauce for dipping.
2 Winners will each receive 5 Coupons full-value coupons for Original Bratwurst Patties and Mild Italian Sausage Patties! {The coupons are good until the end of September}
{

{Disclosure~I received the Johnsville Products to review for free{From One2One Network}.No  
  monetary compensation has been offered or accepted.The opinions above are my  own}